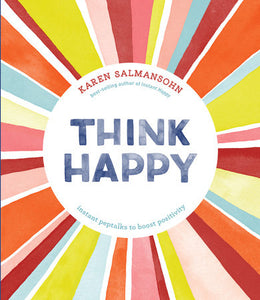 Stay happy—no matter how much life throws at you!

Happiness expert and Oprah columnist Karen Salmansohn presents a collection of 50 inspirational inner peptalks to boost your confidence, attitude, and mood. These peptalks are different than affirmations because they're feisty, fun and memorable–and will thereby stick in your brain like a catchy song. You'll naturally want to keep repeating them, thereby changing your neural pathways so you're inclined to think positive thoughts, which lead to positive habits, which lead to a positively happy life!

Whether you're feeling stressed, need motivation, are dealing with haters, or need to turn your tale of woe into a tale of wow, THINK HAPPY's instant peptalks and whimsical illustrations will grump-proof your brain so you can move forward with optimism, resilience, and plain ol' fabulousness.